My moms Dear Friend Suzanne passed away Monday evening from Lung Cancer. My mom was able to come South to see her and say her goodbyes. Its a sad time...
I created this card using CTMH Twilight, Sweet Leaf and Colonial White CS. Cosmo Cricket Fleuriste paper. Cuttlebug embossing folder. Silver and Copper rub. Verve Visual - Serenity. Stampendous - Encouraging Word. Cocoa ink. Twill ribbon. Antique brass photo hanger. Plaid dimensional magic.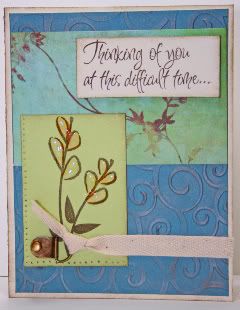 Karma - experience your pain rather than distract yourself from it...