I am going to teach a class in May for National Scrapbooking month and we'll be making this accordian album. I used CTMH X1404 True Fit Folio's. The paper is X7092B - Good Times L2 Paper Packet and X7092C Good Times Stickease assortment. I love the colors! Chocolate, Sweet Leaf and Twilight.
Closed and tied with Cocoa Ribbon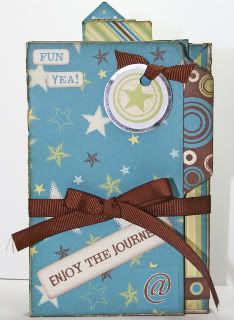 Inside view
Backside view
For larger view click
here.
Karma... pay attention to the things that are working positively in your life...