You can read part 1 here..
There are over 30 beaches on the Island. Most of them nude beaches. To access them, you have to drive down narrow dirt roads. They are not maintained and have deep holes, rocks, muddy spots, etc. Where is the 4 wheel drive when we need it?? We randomly selected one and off we went. We were in the tin can, barely staying on the road when suddenly I spotted a white haired Brown Man walking towards us in the middle of the road. Is that a penis? Wilt almost wrecked the car he was laughing so hard! Welcome to paradise!!!
Another dark skinned man was further down the road directing us to a parking spot. My suit, towel, camera, sunscreen etc was packed away in my beach bag. He owned a little hut on the beach and rented lounge chairs with umbrellas. $10 for a day. He also sold, water, beer and rum punch. I grabbed by bag and asked him where the dressing room was. I think time stood still!!!!! He looked at me, mouth agape and pointed at the bushes! I wasn't about to show off my saggy white boobs! I somehow got my swimsuit on my body, inside the tin can while maneuvering my body like a contortionist. I put on my cover-up, grabbed my bag and off we went…



We followed the dark skinned man further down the path, down some rocks and around the corner. I stopped in my tracks! There were rows of nude bodies. Old saggy skinned bodies. Skinny toned bodies. Boobs hanging to the knee's bodies! Big bellies! Small bellies. Dark and tanned in places I didn't want to view. I was horrified! Scarred for life! It then dawned on me! Here I am paranoid about my body and I looked pretty darn good! I pulled off my cover up, rubbed myself down with sunscreen, plugged in the tunes and got over it!
This is definitely not a beach for picture taking. The camera didn't come out that day. The dark skinned man brought me a rum punch. Guava Berry Liquor is bottled right on the Island of Saint Martin. It's one of the ingredients in the punch. I was in paradise! I really wanted to enjoy the scenery… but… try not staring on a nude beach. Especially the first time. I tried to gaze out at the amazing teal colors of the ocean. It's more beautiful than the pictures. Unbelievable! There was movement all along the beach; People swimming, sunbathing, visiting etc. A man was lounging next to me. He sat up, turned in his chair and started visiting with me; hanging out in all of his glory. He asked me if it were my first time at a nude beach. "Is it that obvious?" LOL!! Even though I had been baking in the Electric Beach for a couple of months before our vacation, I still got a little pink that day.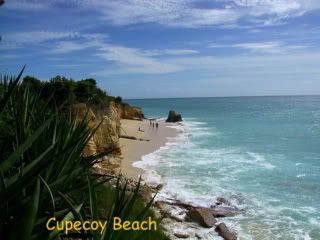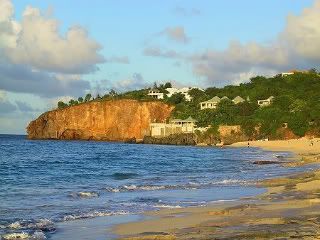 To be continued......