Do you use punches in your creations? I've seen this technique demonstrated and decided to give it a try. There has to be an easier way. I'll experiment a little more and figure it out. I used a large star punch, a small star punch and a large circle punch to create this quilted look.
It's nothing fancy. I just gathered some scraps and gave it a try. I used CTMH Petal and Buttercup CS. Paper Garden B&T paper. Lavender and Yellow Stickles. Twill Ribbon . CTMH D1271 - April Word Puzzle stamp set. I tore the side edge. CTMH CS has a white core. I'll probably pull the little flower off. I don't think I really like it on the card?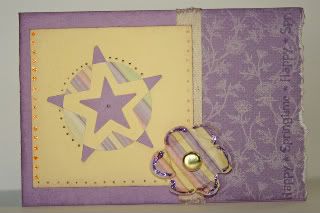 Karma... be grateful for the gift of every day...