Read part one here
Read part two here.
We found Orient Beach the next day. It's a family friendly beach. You have to wear bottoms but can be topless. The waves were calm that day so I just bobbed in the ocean most of the time there. It was glorious!! It was so relaxing… Everyone needs a vacation where you can sit under the warm Caribbean sun all day..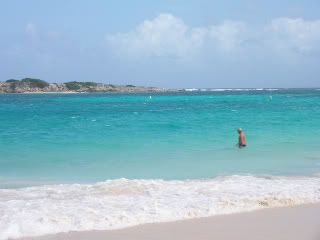 We drove to the French town of Marigot. We wandered the shops and found some souvenirs for the family. We found a French bakery, ate some lunch and bought some pastries for later. There are so many places to eat. So many cultures. So much seafood. So much fun!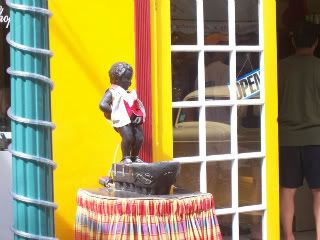 That evening we decided to eat at The Hideaway. This is the restaurant at the Resort we were staying at.
Most of the tourists on the Island are retired folks. We were sitting at the bar, eating something with Lobster and chatting with the bartender. The music was calm and soothing. We were trying to talk them into changing the music and making it a little more upbeat! They said they couldn't because of the Guests. Party Poopers!! The host didn't want to offend them. This is a small little open air restaurant next to the pool. There are probably about 20 tables. Guests were probably between 40 and 65 years old. This didn't stop My Handyman. He went around the tables and asked them what they felt about changing the music up a beat. Before we knew it.. the music was loud and rocking and we were all lined up forming a chain, dancing around the restaurant and bar, singing and drinking rum punch! Luckily our path to home was only a few feet away!! I don't remember how we got home!
To be continued.....