My Handyman is a genius! I don't think he reads my blog so its

ok

to say it :) We bought a new couch and love seat. Its been on order and was finally delivered early this morning. Last night Punk Snowboarder helped My Handyman take the old

Humongous

sectional (5 pieces) to the garage. You know how furniture leaves the marks in the carpet? Where it's smashed down?? You probably already knew this.. but My Handyman told me if you take a damp cloth and steam iron over the area the carpet fluffs back up! Genius I tell ya! It worked!!
OLD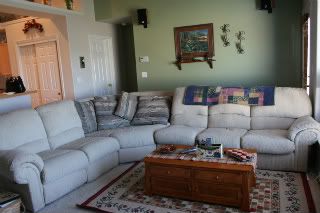 NEW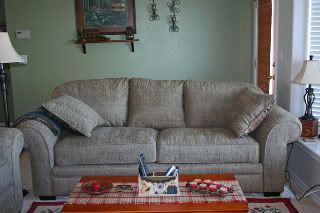 The new one adds a little more color to the room.
Its supposed to be in the 70's all weekend so I'll probably be outside doing something, even if its just sitting on the patio soaking in the warmth while sipping some ice tea and reading a book. I'm not sure how much stamping or scrapping I'll get done!!
Karma.. reclaim your time..