Read part one here
Read part two here
Read part three here
When you drive around the Island, Everything is painted in bright primary colors. The houses, the open air markets, even the artwork. There are free range chickens and goats running everywhere. I think that is the food of choice. Chicken, Goat or Seafood. Beef is imported and costs over $25 a pound for steak!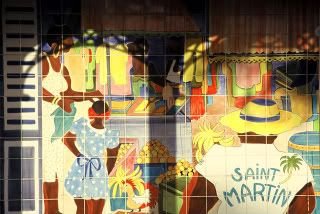 We had so much fun the previous night we decided to hang out at The Hideaway again..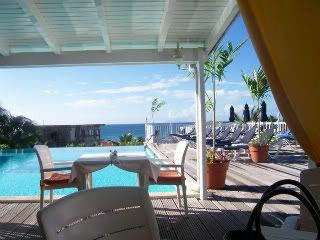 We met a few more of the patrons and a nice couple from Scotland. We were chatting for awhile and I was telling them my Moms family is from Scotland. I ask if they had ever heard of the Kinghorn's. "You've Got to be Kidding!!! We live in Kinghorn" the guy said. It's a little village along the coast of Scotland. He was telling us how beautiful it is there. I told him my Mom's last name was Kinghorn. " You're Mother?? OH MY GOD!! You're Royalty!! Everyone in Scotland knows the Kinghorn Family is Royalty! Descendants of Queen Mary !!" People in the restaurant were turning and looking. I had heard this rumor before.. but I really didn't want to hear it now. I didn't want the attention. Wilt said "OH NO! Don't tell her that! She already thinks she's the Queen!" LOL! We had a nice visit and the rum punch began pouring again!
Here
is an interactive map of Saint Martin

One night we took a sunset cruise on the Tango.. It was a beautiful night.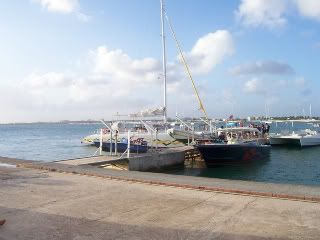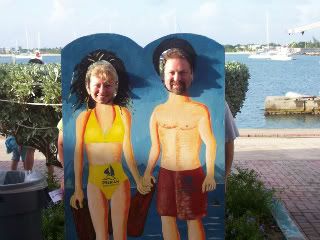 The rum punch was flowing again! I had some old millionaire lady telling me her life adventures on the cruise. I am a good listener so I didn't mind... She was keeping up with me pretty well downing all of those rum punches!! LOL! It was a fun adventure on the sea at night. We could see all of the cruise ships lit up off in the distance.
We had too much sun, too much rum punch but not enough time. It was such a fun time. Before we knew it, it was time to fly back to reality. To the cold, snowy Idaho winter. I have a lot of great memories of our trip to "Sint Maarten" as the Dutch would say. We'll be seeing you again!