I love sunshine. I love feeling the warmth on my skin. I love that my body absorbs the warmth and vitamins it provides. I love that it awakens the earth into full bloom. I love that it colors my skin to a nice golden brown. Where are you warmth? I need you!!
I created this card using CTMH Heavenly Blue, Crystal Blue, and Sweet Leaf CS. Stampin UP - A Little Bit of Happiness. Robins Nest - DD Water baubles. Taupe Ribbon. MFT stamp - By The Seashore. A piece of scrap B&T paper. Prisma Color Pencils.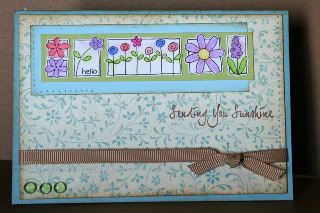 Karma... let silence empower you...