I think it's the season for every living thing to be Twitterpated!!! There are all kinds of animals on land and in air, chasing each other in merriment! What a glorious sunny weekend!
I created this card using CTMH Buttercup, Heavenly Blue, Sweet Leaf and White Daisy CS.
Chocolate and Honey ink. Frosted lace, Yellow, Lime Green and Cotton Candy Stickles. Yellow Ribbon. Water Baubles. CTMH - D1271 - April Word Puzzle stamp set. I used my Cuttlebug to emboss the Heavenly Blue CS.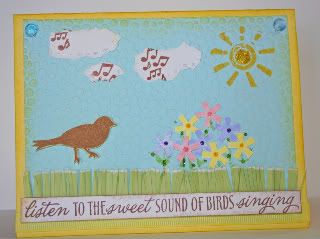 Karma.. learn to love your love handles....