Well... Here is the finished product! I love my new floors! WOW! It's so different! My carpet was pretty light and the house looks so different with the darker antique cherry floors! Its wonderful!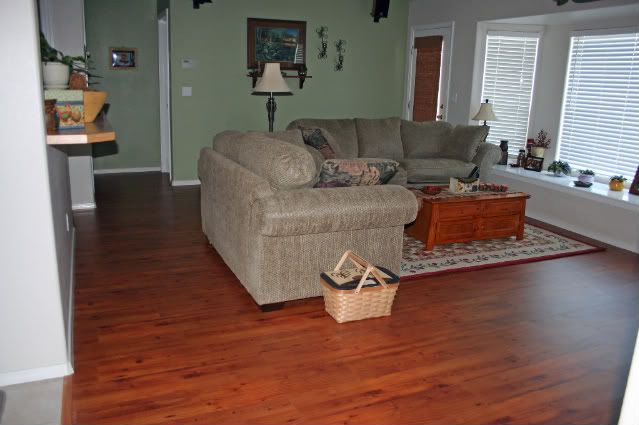 Its kinda funny but then again not... My poor pooch won't step his feet on the floors! He hates them. The first night he came into the house and slid a little and ran back to my craft room which still has carpet. I couldn't get him out of there. I'm not kidding! It took me almost two hours to get him out. I tried bribing him with treats. Nope! That didn't fool him. I got his leash and my tennis shoes and tried to trick him into thinking we were going to go on a walk. He got all excited and was jumping until he hit the edge of the carpet and on came the brakes; to a screeching halt! He backed up to the corner under the table and wouldn't come out. The Handyman and I were not happy with Tanner or with each other! Not a pretty sight. Tanner was freaking out.. Shivering and hyperventilating.. I finally sat down with him.. calmed him down.. put his leash on and quickly dragged him around the corner to the tile entry and out the front door and back through the garage to the back yard... He hasn't been inside the house since Thursday..
I went to Lowes and bought a rug for the laundry room... I coaxed him into the house Saturday and he stayed on the rug, shaking like crazy.. I finally let him back outside. It's the weirdest thing. I guess its just going to take time for him to get used to them.
I'm glad it didn't take me that long to get used to them.. I fell in love at first sight!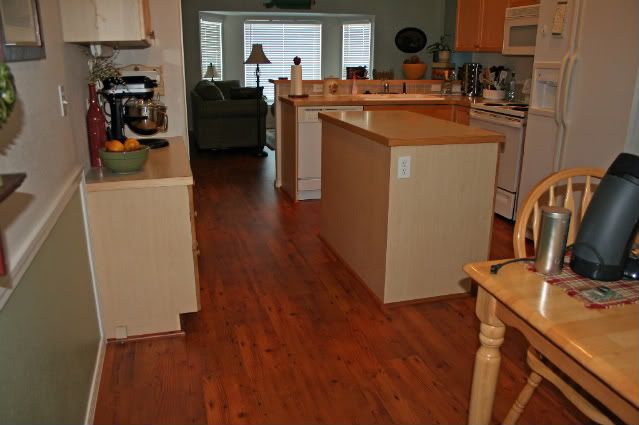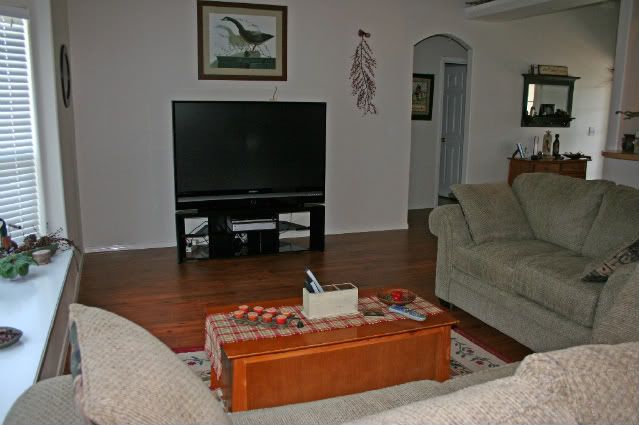 We have a few more things to put back together and then I will again have a house of order.
EnJOY!