My Handyman likes to enter sweepstakes on line. He's a pro at it! We get several packages a week of prizes. Mostly T shirts and coupons for free products but he has also won some very nice prizes. A couple of years ago he won a trip to Saint Martin. It had all kinds of extras with it.. (click on the labels below to read about the trip) . He's won professional cookware, golf clubs, fishing poles, gift cards etc..... Its a great way for him to de-stress for a few minutes each day and he gets rewarded for it.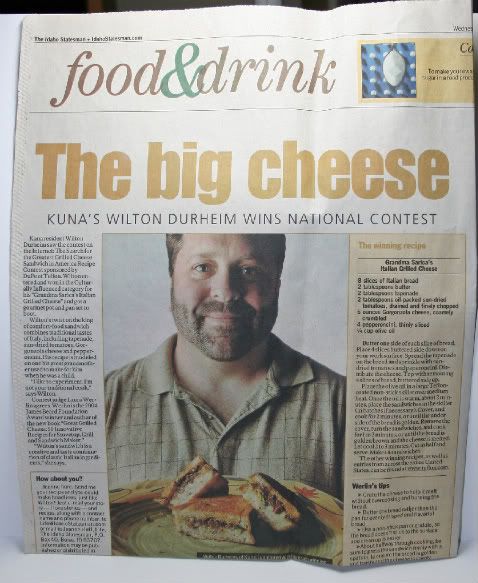 A few years ago he entered a Grilled Cheese recipe contest. He Entered his recipe "Grandma Sarica's Italian Grilled Cheese. " Its kind of a funny story. He was reminiscing about his Grandma and the fabulous Italian food she cooked for him when he was a kid. He pretty much made up the recipe as he typed it on the entry form.. A few weeks later he got a call that he had won one of the top spots. He was speechless. We got calls from local news and TV stations wanting an interview. It doesn't take much to get this town hopping! I couldn't stop laughing! He had never even cooked the sandwich.. let alone give an interview and tell the sappy story about it.. He grilled it for us that weekend and it was really good! You've gotta give it a try.. He gave in and had an interview with the local paper.
Grandma Sarica's Italian Grilled Cheese
8 Slices of Italian Bread
2 Tablespoons butter
2 Tablespoons olive tapenade
2 Tablespoons oil packed sun dried tomatoes,
drained and finely chopped.
6 ounces Gorgonzola cheese, coarsely crumbled.
4 pepperoncini, thinly sliced
1/4 Cup olive oil
Butter one side of each slice of bread. Place 4 slices buttered side down on your work surface. Spread the tapenade on the bread and sprinkle with sundreid tomatoes and peperoncini. Distribute the cheese. Top with remaining 4 slices of bread. Buttered side up.
Place the olive oil in a large Teflon coated non-stick skillet over medium heat. Once the oil is warm, about 2 minutes, place the sandwiches in the skillet (in batches if necessary) Cover, and cook for 2 minutes, or until the under side of the bread is golden . Remove the cover, turn the sandwiches, and cook another 1-2 minutes. Cut in half and serve. Makes 4 sandwiches.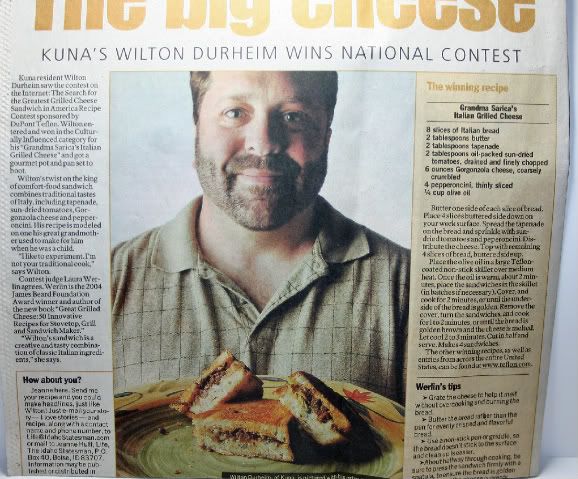 EnJOY!