When you read the title for today did you think I was going to post something I cooked with a secret family recipe? Sorry... I haven't been cooking anything special lately. Punksnowboarder told me that his wife (my daughter in law) wanted me to make her a recipe box for Christmas. Well..... I knew right where to buy the stuff to make it... PTI has fabulous stuff! I love
THIS
stamp set and they even have the
box.
I just didn't know for sure what colors. I knew shades of blue and chocolates. That is the colors of her kitchen. I wrapped everything up for her then let her tell me the colors after she opened it. She showed me a couple of samples and This is what I came up with. I used
CTMH
papers(sweet leaf and twilight) and PTI ribbon.
This is the messy table with supplies spread out everywhere.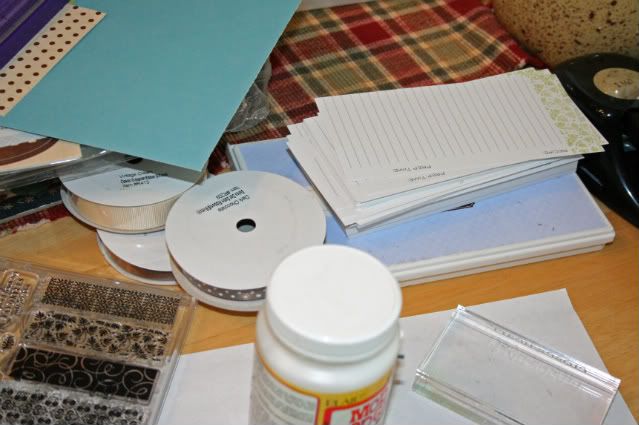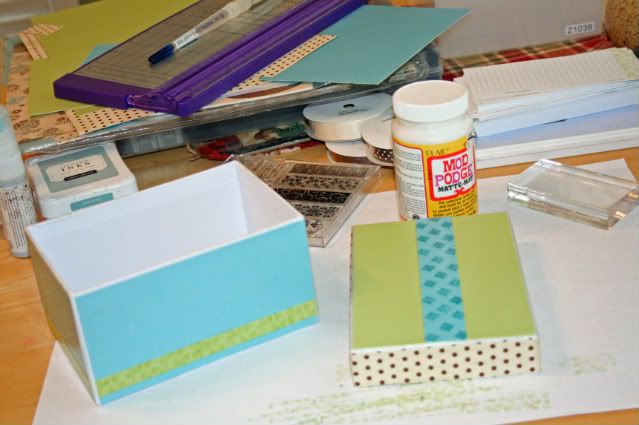 Now I have something to admit to you. I'm kind of embarrassed and I want you to promise that you will continue to visit my blog. I didn't mean to do it! It's probably going to ruin my reputation! I am so ashamed! I can face the consequences. I admit my mistakes and errors. Please! Oh please don't judge me! I forgot to take pictures of the finished product! I was in such a rush and wanted to get it finished and they came over for dinner one Sunday afternoon and I was excited for Jenn to see it and well... Me ,Myself and I ... the one with the camera almost 24/7.... that takes hundreds of pictures... FORGOT!!!! Its the end of the world! PLEASE! OH PLEASE! do not repeat this to anyone! I'm turning beet red, barn red, blush flesh, brandywine, bubblegum pink, country red, dusty rose, melon, oxblood, red iron oxide, tuscan red... practically every color of paint in my paint supply. But I know if you really love me and are a true friend you will forgive me...
I had to email Jenn and beg her to take a few pictures for me... she's really good about that...
So... here is the finished product... Now all she has to do is fill it up with recipes..
ENJOY!
Michelle