I love Granny squares. Have you tried crocheting them?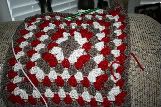 I decided to make a lap quilt. This Granny Square is made with Vanna's Choice yarn. Linen, Cranberry and Taupe.
Did you know that Vanna White (aka- wheel of fortune) is a huge knitting and crocheting fan?? She has all kinds of pattern books published and now has her own yarn! I just started this project last week. I'll show off the finished product at a later date...