Journal – 3/22/10
Today I stopped at the craft store to buy chalk. I am working on a wedding project for Ashley. I also wanted an eraser. Can you believe they don't carry them? Who sells chalk and doesn't have erasers. I also bought an 8x8 canvas for a Birthday project. It will be a hybrid project which includes digital elements, paint, chipboard and bling. Ideas are swirling around in my brain.
While walking around the craft store, I noticed all of the fun Spring items on display. I knew I was in a rush and didn't have time to get distracted. My next stop was punches. Ashley wants a punch, that punches around an edge and gradually created an oval. She wants to use it on the programs for her wedding. No oval to be found. Martha Stewart sure makes some pretty lacy punches.
The dollar bins were full of fun Spring themed items. I found some packages of 3x3 note cards. They are covered in bright yellow circles. I thought these would make great bases for little cards. All I have to do is add a stamped image and a little ribbon. I also found a cute cupcake stamp in the dollar bin.
Next to the check stand, I noticed my favorite. Hot Tamales. I couldn't resist. The entire time I was standing in line to pay I was having a guilt complex. I'm trying to eat better, go to the gym at least 3 times a week and lose some weight. Bad news! I ate half the box on my way home. Crazy guilt!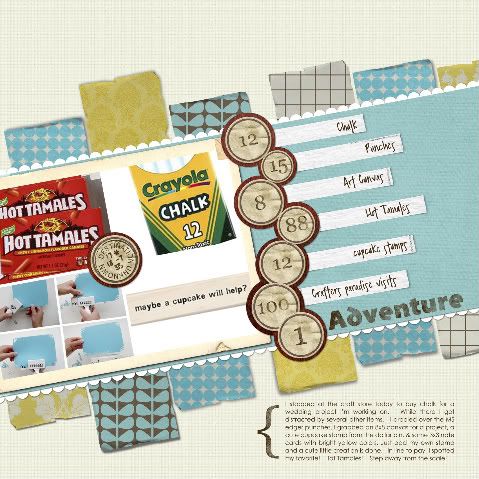 Enjoy! Create! Simplify!