I made this card for Maria's Scrap Pile Saturday.. I love using up my scraps! Go find more out about it
HERE
A
dream
is a succession of thoughts, images, sounds or emotions which the
mind
experiences during
sleep
.
Throughout history, people have sought
meaning in dreams
or
divination through dreams
. Dreams have been described
physiologically
as a response to neural processes during sleep,
psychologically
as reflections of the
subconscious
, and
spiritually
as messages from
gods
, the deceased, or predictions of the future. Many cultures practice
dream incubation
, with the intention of cultivating dreams that were
prophetic
or contained messages from the
divine
.
Love
is any of a number of
emotions
related to a sense of strong
affection
[1]
and
attachment
. The word
love
can refer to a variety of different feelings, states, and attitudes, ranging from generic
pleasure
("I loved that meal") to intense
interpersonal attraction
("I love my husband"). This diversity of uses and meanings, combined with the complexity of the feelings involved, makes love unusually difficult to consistently define, even compared to other emotional states.
As an abstract concept,
love
usually refers to a deep,
ineffable
feeling of tenderly caring for another person. Even this limited conception of love, however, encompasses a wealth of different feelings, from the passionate desire and intimacy of
romantic love
to the nonsexual emotional closeness of
familial
and
platonic love
[2]
to the profound
oneness
or devotion of
religious love
.
[3]
Love in its various forms acts as a major facilitator of
interpersonal relationships
and, owing to its central psychological importance, is one of the most common themes in the
creative arts
.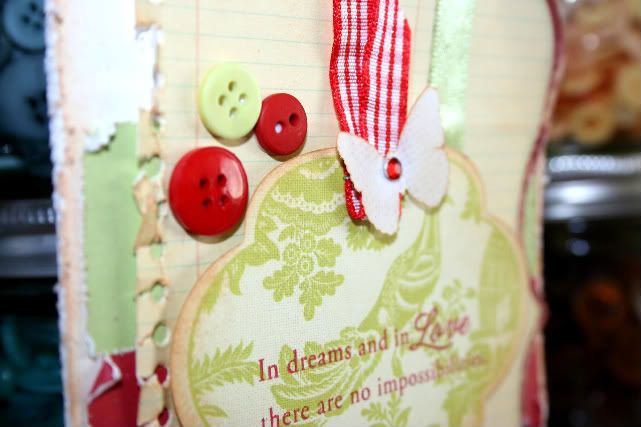 Products used: Kay and Co – Die cuts.
CTMH
– Tulip, Sweet leaf.
PTI
– Heart print Sentiments. Distress ink – Tea dye. MS punches- lace, butterfly.
Verve
– Heart Flower. Buttons. Ribbon. Twine. Crystal. Souffle pen – white.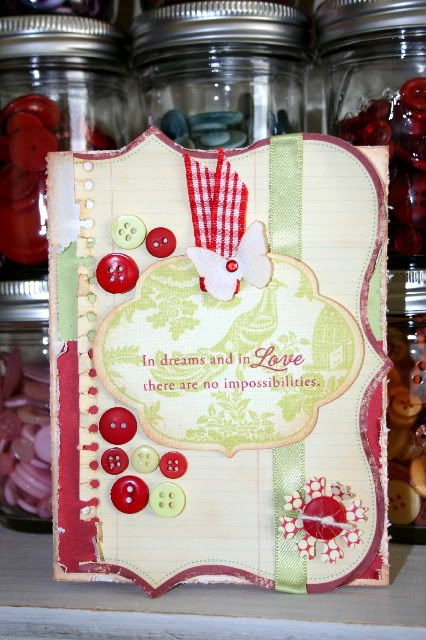 Create! Enjoy! Simplify! Dream! Love!