These journaling clips will be a few days behind. We journal one day, then we scrap the next.. then I have to post to the blog… Patience my Dear!
Not the mention that I am three days behind on my classes!
Journal – 3/28/10
Today I had a fun day with Family. I got to sleep in a little bit, then hurried to the store to buy something for the pot luck. I make a cherry dump cake, doctored up some potato salad and Bill made BBQ meatballs. The reason for the gathering is because Aunt Mary, My Mom's baby sister, is in town for a week.
The festivities were at Aunt Dolores's house, My Mom's clone. There were about 30 of us. We had all kinds of fabulous food. That is what our family is famous for. Eating! Aunt Mary has owned several restaurants. She made a Chinese chicken dish and strawberry shortcake covered with a lemon – orange glaze. YUM!
I love being surrounded by family. It was nice to visit everyone. Eric played the guitar and sang to us. Carter drew pictures. Darrell brought his dog Rascal, which everyone loved. He is such a good dog. We pretty much filled up her house, back yard and front yard. Good thing we had nice weather.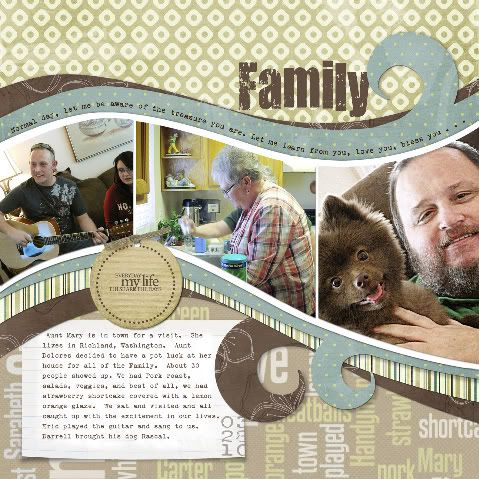 Enjoy! Create! Simplify!