I found this awesome digi kit from
2Peas in a Bucket
. It was featured in the newest Digital Scrapbooking magazine. I used it to make my newest scripture challenge.
Word: Beauty. Scripture: 1 Peter 3: 3-4
I created this digitally, then printed it on HP premium presentation paper. I created it into a Hybrid project. I find that the HP paper is the best for printing digital. I cut out the image and glued it on my 4x4 coaster. I then wrapped it with a ribbon and added some stickles.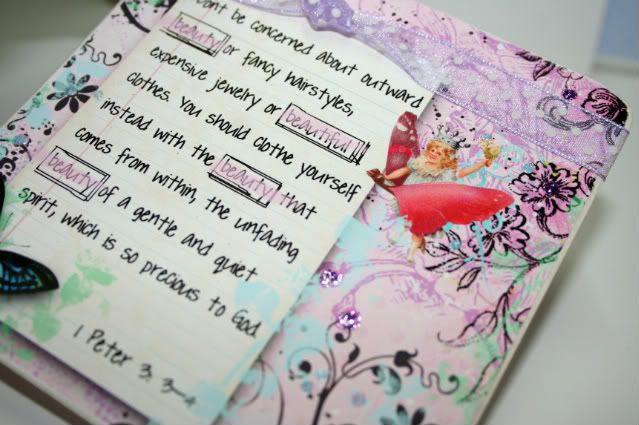 Don't be concerned about outward beauty or fancy hair styles, expensive jewelry, or beautiful clothes. You should clothe yourself instead with the beauty that comes from within, the unfading beauty of a gentle and quiet spirit, which is so precious to God. 1 Peter 3: 3-4
Products: PSE7, Urban Junque, Organic brushes - 2 Peas. Lavender, Baby Blue stickles. Ribbon.
EnJOY!
Michelle