After I gathered all of my painting stuff yesterday and got all of my chores done. My handyman came out to the garage and said he was restless. He wanted to go for a drive. It was about 10 AM. We got in the truck and hit the road. We went to Fruitland, about 45 minutes East of Boise. This is God's Country; a land full of lush fertile fields and orchards. We drove to the farmers market and filled the truck with lots of treasures. Tomatoes, Chilies, Corn, Cauliflower, White eggplant (I'm going to give this a try), apples, onions, plums, tomatillo's, cabbage, etc... We drove the back roads home and enjoyed the beautiful scenery. Although unplanned, I decided to buy everything I needed for salsa.. I just needed to stop and get some jars. I think the whole area is reaping the harvest and preserving. By the seventh store I finally found some jars to purchase. Wally World told me they weren't getting any more in for the season. Freddy said the same. Winco said they were getting them in daily but were selling out by 6AM each day. (they wouldn't save me any for a Sunday morning purchase) so I bought them from the big A. store. They were spendy but I figured I better buy them. It would cost me the difference to drive back into town the next day to buy them at a lower price. That is if they even had any in stock.
Handyman roasted the chilies, whipped out the food processor and chopped all the onions, tomatillos' cilantro, etc while I blanched, peeled and chopped the tomatoes. I cooked the mix, bottled it and did a hot water bath. 24 pint jars and about that many tomatoes left. I need to go buy more chilies and will probably make another batch Monday. I think I'll try drying some of them , also.
edited to add: Recipe Below...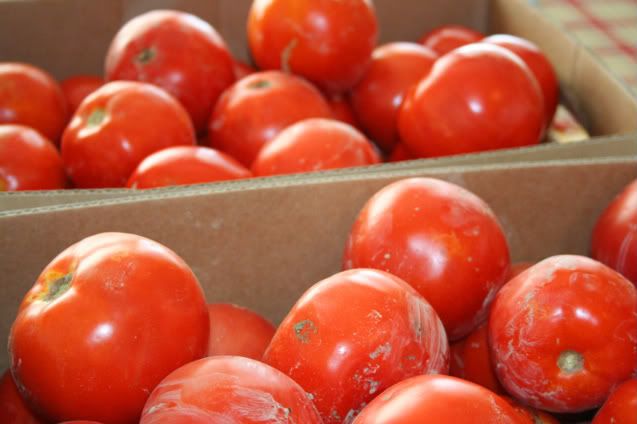 On our way we followed a few trucks filled to the brim with onions, fresh from the fields. As they would turn a corner some of the onions would roll off and onto the side of the road. We stopped and picked up a few but decided it wasn't worth the danger because of all the traffic.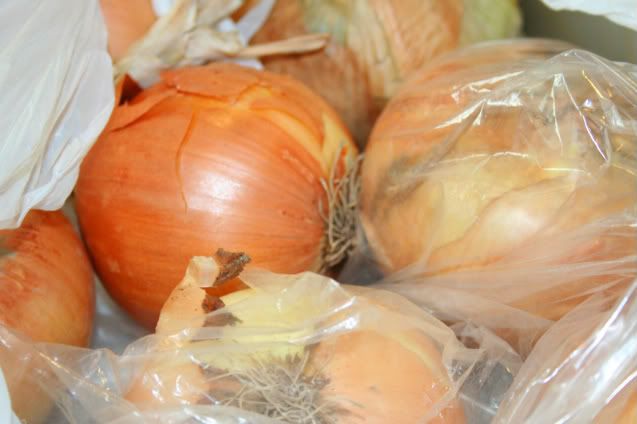 My Handyman roasted the chilies outside on the big grill.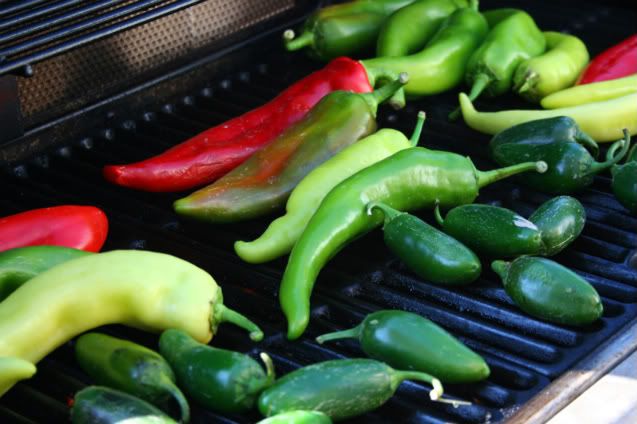 Tomatillos cleaned up after the leathery husks were peeled off.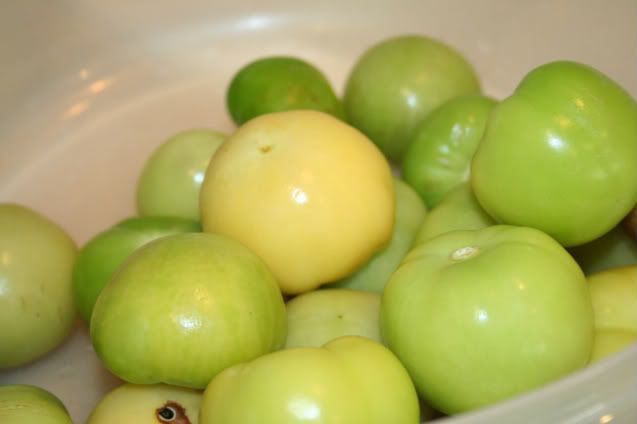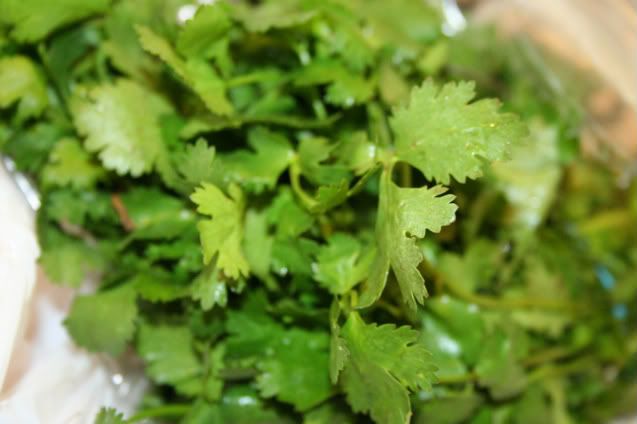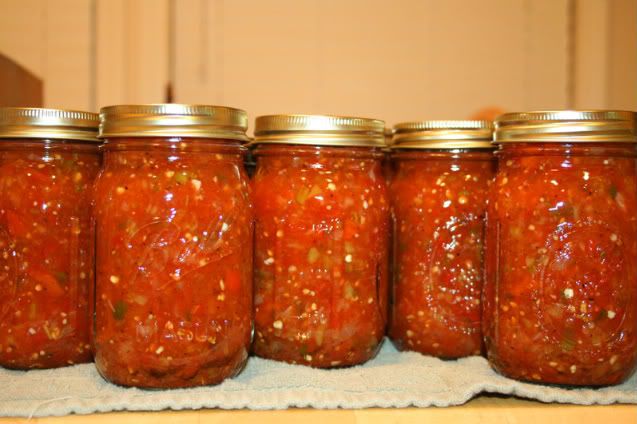 Zesty Salsa
(makes approx 6 pints)
10 C Chopped peeled tomatoes
5 C Chopped seeded various chili peppers
2 1/2 C Chopped Tomatillo's
5 C Chopped Onions
1 1/4 C Cider vinegar
3 Cloves garlic, finely chopped
1 C Finely chopped fresh cilantro
2 T Canning Salt
1 T Ground pepper
1 T Hot pepper sauce (optional)
1 t Cumin
In a large stainless steel saucepan, combine all ingredients and bring to a boil over med- high heat. Cook until slightly thickened . About 15 - 20 minutes.
Ladle hot salsa into hot jars, leaving 1/2 inch headspace. Remove air bubbles. Wipe rim. Center lid on jar. Screw band on to fingertip-tight.
Place jars in canner, ensuring they are completely covered with water. Bring to a boil and process jars for 15 minutes. Remove canner lid, wait 5 minutes and remove jars, cool and store.
Tips.... If you don't mind heat, you can leave the seeds and veins in the chilies.
When I made my salsa, I used Anaheim, Hungarian wax and jalapeno's. I roasted my chilies. This makes it alot easier to peel them.

WARNING!!

Be sure and wear vinyl gloves. The chili oils will get on your fingers and they will burn for days if you dont.
Life is good!!
Enjoy!