Hey there chicken lovers! If you know me then you know that I have my kitchen decorated with chickens. I haven't bought anything new for quite a while. I'm trying to de-clutter! Not that I was every very cluttered but anyway. I find chickens in other ways. (
insert evil laugh
)
I found the cutest chicken stamps from
Whipper Snapper
!
Anna Wight
is one of the best designers. This goofy looking bird is so fun! He's so Cluckin Cute! I'm replenishing my card stash so will be making an assortment to show you.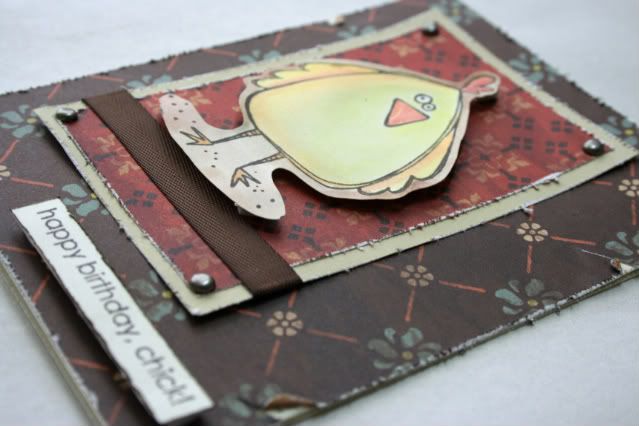 Products used:
Papers - Cosmo Cricket Gretel. CTMH - Bamboo, Colonial White CS. PTI- chocolate twill ribbon.
Twinkling H20's. Pewter Brads. CTMH Cocoa Ink.
Stamps - Lg chicken. Crazy Chickens
I like to use my sharp little scissors and scrap all of the paper edges and make everything look grungy..
EnJOY!
Michelle