I've known for a couple of weeks that my Aunt Marva wasn't doing very well and would probably not last much longer. I found out that she died early Wednesday morning. I lived next door to her until I was about 15. She was like a second Mama to me. Her daughter Carma Jean and I grew up as best friends. We were inseparable. There was rarely a day we weren't together. Even when one of us was in trouble or grounded we would meet out in the field near the fence and sit for hours and talk. She was on her side of the fence and I was on mine. We played the card game War and talked until one of our Mom's called us in. It almost seems like yesterday. Even though we are grown up and are Grandma's... we still laugh and cry and giggle all night everytime we're together..
Aunt Marva is one of my Dad's older sisters. She babysat us before and after school and summers. She was a soft spoken person but radiated with love. She had a sense of humor and I remember her silly little grin and laugh.
I will be traveling to Eastern Idaho today for her Funeral and will stay until Saturday afternoon.
I am not looking forward to the drive but look forward to seeing family that I don't often get to see. What happened to the good ole days when we had family gatherings on weekends? Went on a Sunday drive to visit. Didn't care what day of the week it was or how late we stayed up.
As I prepare to gather together to visit with family and pay my respects to Aunt Marva, I can't help but be jealous of the reunion that she is having too. She'll see many family members including my dad. What a joyous moment! Give Dad a hug and tell him I Love him!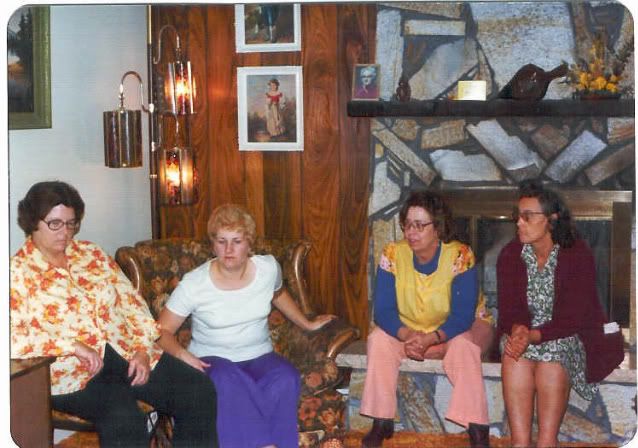 Aunt Becky, Mom, Aunt Rachel, Aunt Marva - 1970's

(I have scheduled More Valentine posts while I'm gone. Be sure and come visit)
Michelle