What can one say, for a harmless insect that does not bite, does not sew snakes' wounds, and definitely does not measure human souls for good and evil, there have been a wide variety of myths and mythology associated with the life and the existence of the dragonfly.
One very striking aspect comes to mind. Change. In many regions and as a norm of this day, the dragonfly is considered to be an agent of change and presumably symbolic of a sense of self realization. Self realization from how the dragonfly uses its power to control its movements and so elegantly. And change and evolution is all about the dragonfly's ability to fly and the way it can be comfortable on water, land as well as the air.
There are quite a few stories about Dragonflies and what they symbolize.  You can read more HERE.
I created this for the Week 4 Viva La Verve challenge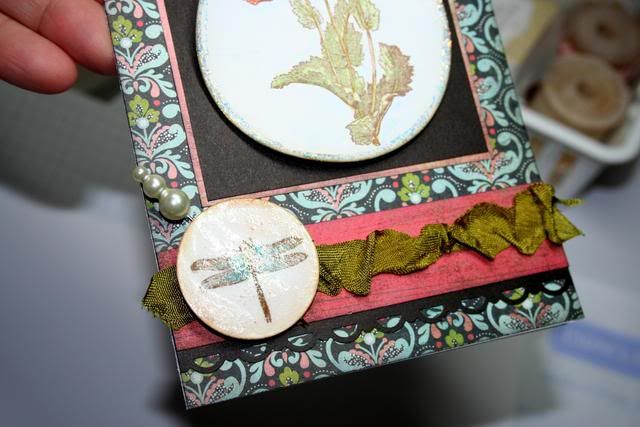 I stamped the images with a waterproof ink then painted them with Twinkling H20's.  I wanted the dragonfly to look like a shiny button so I painted it with Liquid glass and sprinkled a little bit of peach glitter on it.
Products used:  Basic Grey – Olivia, CHF – Botanical Bliss, CTMH – Black, Liquid Glass. Twinkling H20's . Seam binding ribbon. SU punch. Distress ink – Soot. Stickles. Maya Road pin.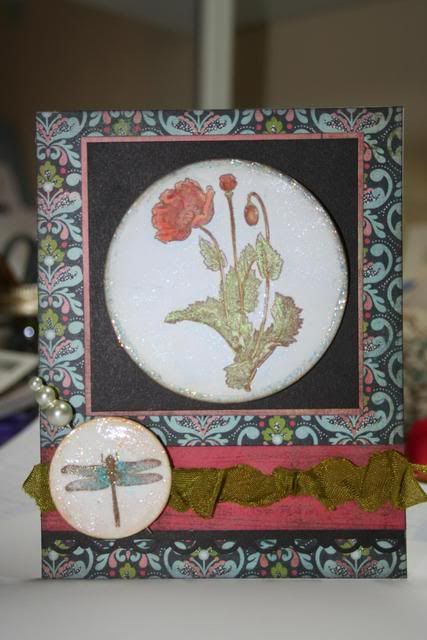 Be Creative!