Look around you… everything seems to be some sort of shade of pink or red.  Just like any holiday… it comes earlier and earlier each year. The stores get overstocked and start promoting.   The florist are taking orders for a shade of rose that will help profess your love for your SO.  Chocolates are rolling off the shelves.  ( I personally will be ordering homemade, hand dipped chocolates from the neighbor guy)
Valentines day!   AAAHH  the season of Amore'.  My Handyman's Birthday also happens to fall on that day..  It's hard to make a blend of both so usually he gets a Valentine card and a Birthday card from me.     
I personally think we should celebrate our love for one another all year long…  after all…  that is the newest commandment.
This card was made for the Mojo Monday Challenge.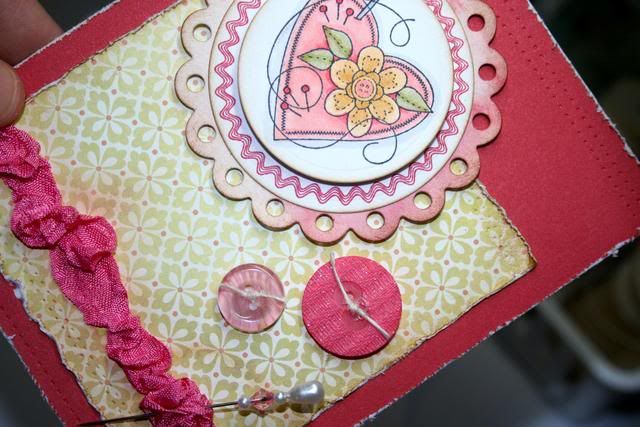 Products used:  Just Right – Stitched with Love. CTMH – Tulip, Z1148 pretty pins. Basic Grey – Porcelain. Copic markers. Buttons. Twine. Seam binding ribbon. Sewing tool. Nestabilities. Distree ink – vintage photo.
Be Creative!