I'm trying to send positive energy out to blog land.   Can you feel the warmth.  It's so cold…  I've been chilled to the bone for a few days.. Mr. Sunshine has made a few appearances but he's just too far away to warm the earth.
I'll warn you in advance…..  more bad pictures.  I really need a light box!    It's dark when I leave my house in the morning and it's nearly dark when I get home after work.  Next year I'm asking for a small light box for Christmas…   If I remember..
I thought the Cherry-O paper would be fun to brighten up someone's day.   I brushed Crystal effects on the stamped bird to make him bright and shiny.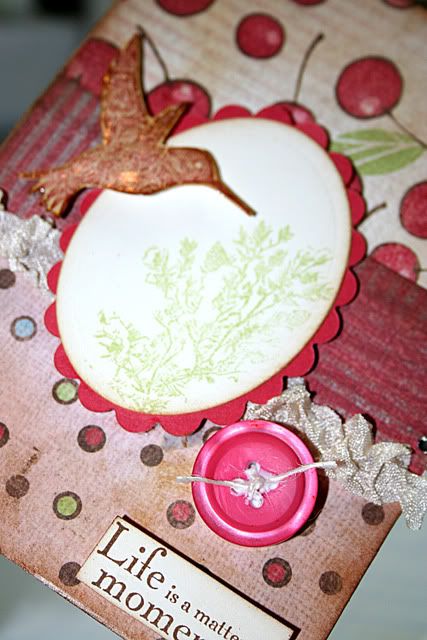 Products used:   CTMH – X7123B Cherry-O. Verve – Feel the Sun. CTMH – Tulip.  D1234 – Take Flight.  Sweet Leaf. Nestabilities. Button. Twine. Crystal Effects. Distress ink – vintage photo. Rhinestones. Seam binding ribbon.
Be Creative!