I have an entire shelf just for my embellishments. Ribbons, eyelets, brads, buttons, baubles, glitter, stickles, etc... You can find these at your local craft/scrap store.
Robins Nest Baubles come in many colors. This is Spring. I use glue dots to adhere to my project.
Stickles come in many colors. To use this product you gently squeeze the bottle and paint or dot on the desired area of your card.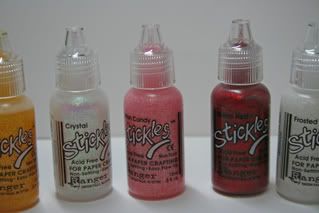 I found this little box on Faith Sisters. You just print, cut and assemble
I really am working on Valentines! This is my "Crap Desk" as My Handyman calls it.