I decided to dig out my Janome mini sewing machine that I bought last summer and give it another try. Especially for sewing on cards. It had layers of dust on it. I got distracted and started doodling little designs in the dust…. That's what happens when the Artist in me peeks through. HHmmmm… wonder if dust can be considered an embellishment! Excellent! My entire house is embellished!!
Ok! Ok! on to the card creation!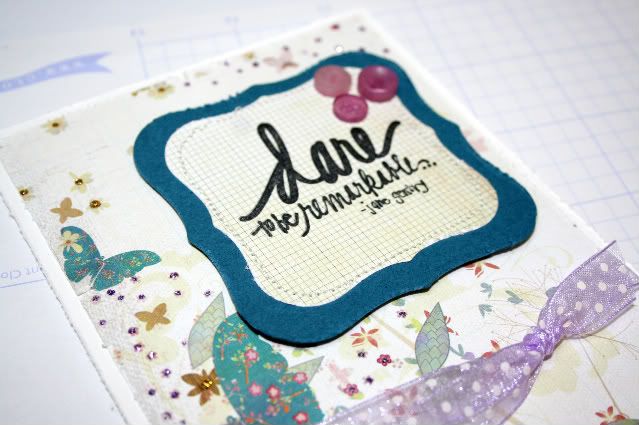 I found this Memory Box - Butterfield paper. It is the perfect background paper!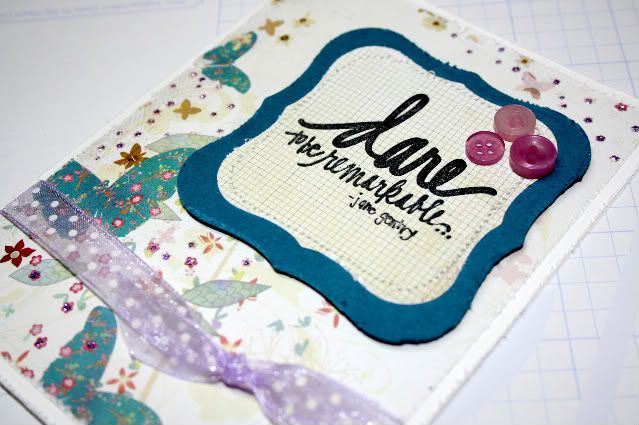 I added a few drops of stickles here and there on the little flowers, Cut out a few layers of paper with my Label nestabilites and stamped this Quotopia sentiment. I then sewed around the edges. It takes a true Artist to perfect the perfect crooked stitch! I also scraped all the edges with my scissors to grunge it up!
Products used: Quotopia – Dare to be remarkable. Memory Box – Butterfield. Stickles – Lavender, Goldenrod. Ribbon. Nestabilites. Janome machine. Buttons.
EnJOY!