The universe is filled with wonder and magical things.
I bought this stamp from
Impression Obsession
. It reminds me of the Oregon Coast when we go crabbing at Yaquina Bay in
Newport
. Oh! and the fresh buckets of
Oysters
! Nothing like a freshly shucked oyster pulled from the bay! We order a bucket every couple of years and have them fedexed to our house. They're better fresh from the shop and pan fried!
This card is made using
Inque Boutique
paper - Cabana. The sentiment is from Quotopia from Inque Botique, also. I water colored the image with my twinkling H20's on water color paper. I embellished with some ivory ribbon, a
CTMH
ivory pin, acrylic accent and lilac brad. The paper flowers are Greenhouse brand and they have a cute little yellow button and water baubles. The background paper is CTMH petal and colonial white sponged on the edge with bamboo.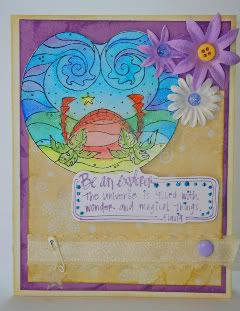 Karma... Ask thoughtful questions...
Enjoy!