What does the fourth mean to you? It means.. Family, Friends, Festivities, Fun and most of all Freedom! I hope you enjoy celebrating our Country's Birthday today.
I created this card using CTMH X7096C Blue Ribbon paper and Cranberry Red cs. The stamp is D1289 - July Word puzzle. I distressed the edges and sponged with Indian Corn Blue ink. I cut out and stacked the star and colored with yellow stickles. The 4 is covered with blue glitter and I finished it off with a navy dotted ribbon!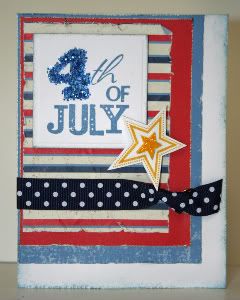 Turn off the music at the bottom of my blog and listen to this tribute to America by John Wayne.
Four score and seven years ago our fathers brought forth on this continent a new nation, conceived in liberty, and dedicated to the proposition that all men are created equal.Abraham Lincoln, The Gettysburg Address, 1863