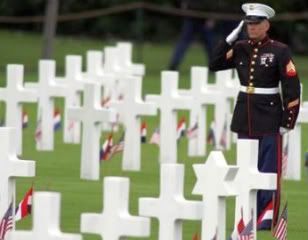 Many people observe this holiday by visiting
cemeteries
and
memorials
. A national moment of remembrance takes place at 3 p.m. US Eastern time. Another tradition is to fly the
U.S. flag
at
half-staff
from dawn until noon local time. Volunteers usually place an American flag upon each grave site located in a
National Cemetery
.
In addition to remembrance, Memorial Day is also also used as a time for
picnics
, barbecues, family gatherings, and
sporting
events. One of the longest standing traditions is the running of the
Indianapolis 500
, (
I went to School with
Davey Hamilton
) which has been held in conjunction with Memorial Day since 1911. Some Americans also view Memorial Day as the unofficial beginning of
summer
and
Labor Day
as the unofficial end of the season. Many Americans use Memorial Day to also honor any family members who have died, not just servicemen.