I've seen other blogs do Flash Back Friday... and since I've been scanning old pictures; I decided to share this one. Fall of 1977 our family moved to Boise from Eastern Idaho, Spud country.
This nice family lived behind us and one of the boys, Robb, decided he liked me. He was a year older than me. Its funny looking back at it but he would stand out at the back fence and whistle for me to come visit with him. Back then I was very shy. Not as outspoken as I am now. Of course I had no interest in him except to be his friend. He was nice and went to my church and funny to talk to. He recorded a cassette for me with all kinds of songs on it and threw it through my basement bedroom window. He used to sing the Firefall song "You are the Woman" to me. Well he asked me to the Prom. I had a good excuse not to go because I wasn't quite 16. Well.. He asked my dad, and my dad knew his family... so... the answer was yes. We really did have a nice time. He rented a limo and took me to a nice seafood restaurant. It was the first time either one of us had eaten lobster. I'm sure he saved for months for the big event!! Here is the photo from the dance. Don't I look beautiful in my Gunne Sax dress??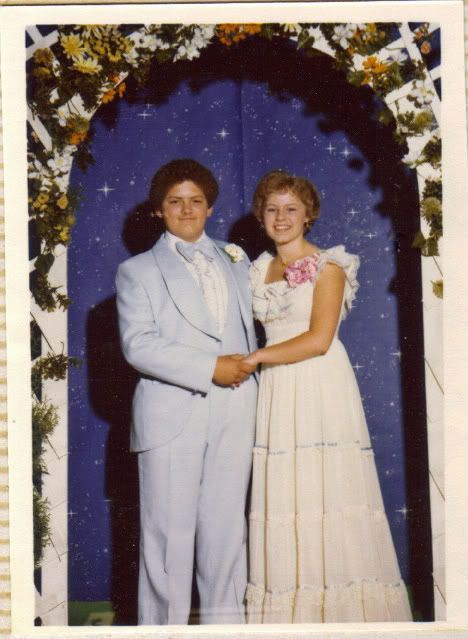 Turn of my music player and listen to Firefall!
EnJOY!
Michelle