Take care of the minutes and the hours, and the years will take care of themselves. ~ unknown
Today is my Birthday! 46! Where have the years gone??.. I promised Blog Candy... I have a CTMH March stamp of the month to give away. You can view here. I will post a picture in a couple of days. I mentioned the other day that my two favorite colors are Red and Green. To enter for a chance to win the stamp set, I would like you to create a birthday card using these two colors. Email me a copy of your card by Friday night March 21st. I will post the cards on my blog and will have my readers (and your friends) vote for their favorite! I may even add a couple of extra treats!
I made my card using CTMH Buttercup, Cranberry and Garden Green CS. I stamped the Tulips (one of my favorite flowers) D1270 March Word Puzzle. I used Garden Green brads, Candy Cane stickles, and added a Verve greeting. I love ribbon and this one is fabulous! add a little yellow (sushine) button and enjoy!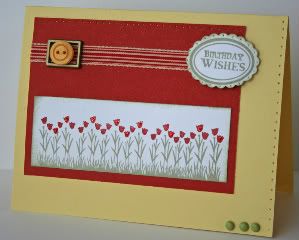 email me - tolep8ntatcableonedotnet - subject- blog candy card