What makes you happy?   Can you think of one thing to do every day to make yourself happy?    We all know what makes me happy…   My Faith, My Family, My Friends,  My Card Making, My Painting…. and on and on the list goes..    I really enjoy having a nice quiet evening in bed just reading a good book.    I read quite a bit, but not enough lately.   I've been trying to get through all of the Harry Potter books again….  It's been a long time since I've read them.   Book 5 took forever, at about 3 pages a day.. well… maybe a few more than that on some days.   I'm going to try and read Book 6 a little faster.  
I made this card for a blog Friend.   She wanted one to send to a friend..  Kelly…  You should be getting this any day now.
How do you like the pretty little crocheted butterfly in the middle?   I bought them on ETSY last year..   I make flowers but haven't tried the butterflies yet.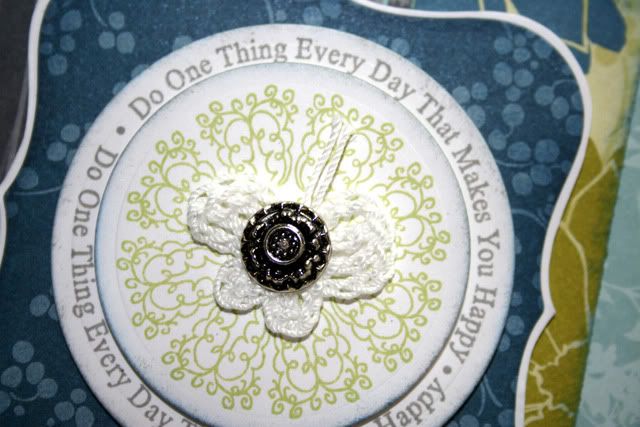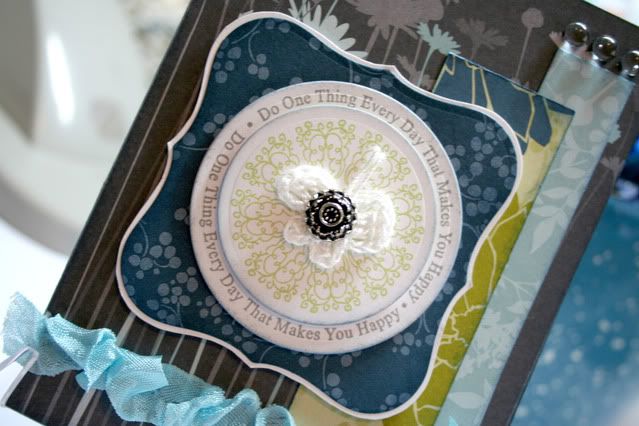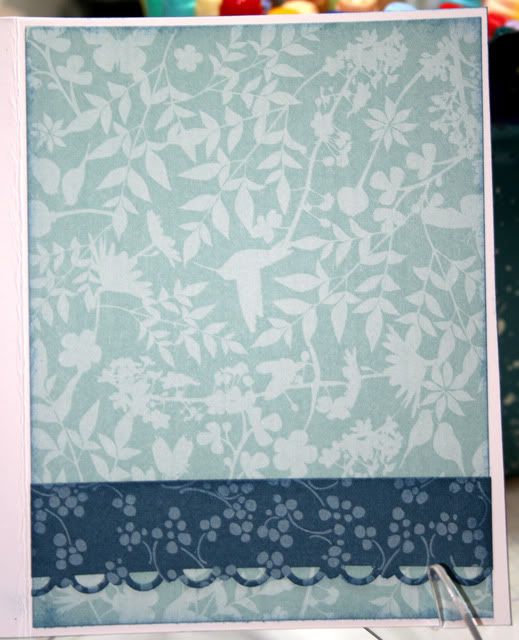 Products used:
Just Right – Kaleidoscope. SU papers. SU punch. Distress ink – Faded jeans. Pink Hedge Hog – platinum baubles. Antique brads – SU.  Hand crocheted butterfly. Seam binding ribbon. Nestabilities.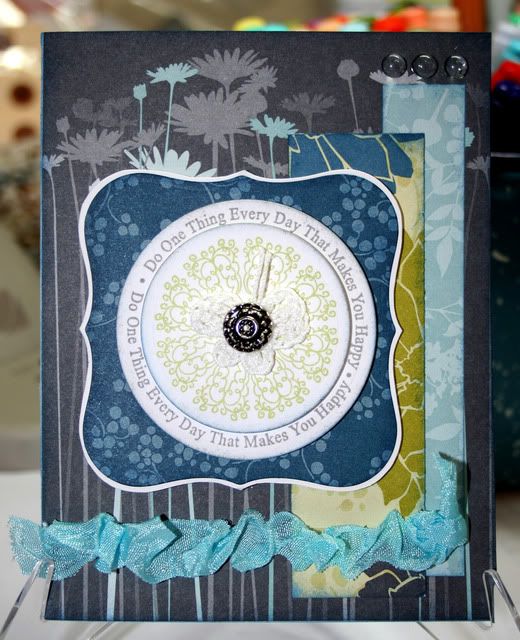 Remember this song?
Happiness is…..  from You're a Good Man Charlie Brown
HAPPINESS IS FINDING A PENCIL.
KNOWING A SECRET
TELLING THE TIME.
HAPPINESS IS LEARNING TO WHISTLE.
TYING YOUR SHOE FOR THE VERY FIRST TIME.
HAPPINESS IS PLAYING THE DRUM IN YOUR OWN SCHOOL BAND.
AND HAPPINESS IS WALKING HAND IN HAND.
HAPPINESS IS TWO KINDS OF ICE CREAM.
PIZZA WITH SAUSAGE
CLIMBING A TREE.
HAPPINESS IS FIVE DIFFERENT CRAYONS.
CATCHING A FIREFLY.
SETTING HIM FREE.
HAPPINESS IS BEING ALONE EVERY NOW AND THEN.
AND HAPPINESS IS COMING HOME AGAIN.
HAPPINESS IS MORNING AND EVENING,
DAY TIME AND NIGHT TIME TOO.
FOR HAPPINESS IS ANYONE AND ANYTHING AT ALL
THAT'S LOVED BY YOU.
HAPPINESS IS HAVING A SISTER.
SHARING A SANDWICH.
GETTING ALONG.
HAPPINESS IS SINGING TOGETHER WHEN DAY IS THROUGH,
AND HAPPINESS IS THOSE WHO SING WITH YOU.
HAPPINESS IS MORNING AND EVENING,
DAYTIME AND NIGHTTIME TOO.
FOR HAPPINESS IS ANYONE AND ANYTHING AT ALL
THAT'S LOVED BY YOU.
Turn off the music above and enjoy!