I had to go back to work today! UGH!! The time always goes too fast!
Over the next couple of days I'll be posting some of the Valentine cards I stamped while on vacation.
I created this card using CTMH Black, Daisy White and Baby Pink CS. The Stamps are CTMH D1269 - February Word Puzzle and D1194- All My Love. I also used Cotton Candy Stickles.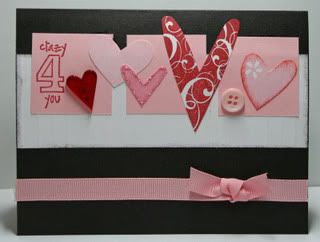 If you look close, you will see I scored (embossed) the white cardstock.