I've had my Dyson Animal vacuum for several months now. I was very impressed when I first got it... I figured it was sucking out years of dust and dog hair out of my carpets. I filled the cannister twice the first time I used it. ARGH!!! My old vacuum is a Kirby which I

thought

also did a fabulous job! ROTFL PMP!!! I'm still impressed! I consider myself a pretty clean person. I dust and vacuum once a week. I have light carpet so the pet hair doesn't really show up on it.
My house is pretty small so I don't have alot to vacuum. Here is what I got today...
Take a closer look! See all of the light pet hair! Covered in dust and dander! EEEEEWE!!! The dust mites love my house! There are probably billions of them crawling everywhere!
This is the culprit! The spoiled rotten 75 pound lapdog Tanner!!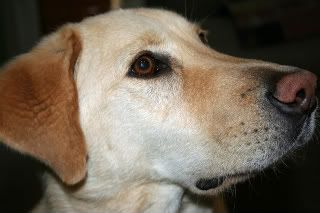 Karma... Do tasks on your own...