Well.. about half of us showed up for the girls day out. I had a grilled chicken bruschetta sandwich. It was really good. Most of us work for the same company and have moved around to different area's, so everyone was catching up on the gossip. It was nice to visit.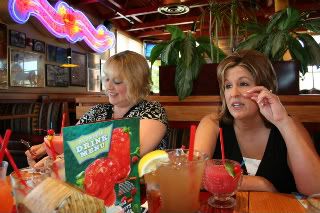 We went to a movie after. Some went to What Happens in Vegas. Scissorbella and I seen Kung Fu Panda. I'm a big kid at heart.

I made my sister a card thanking her for planning the fun.
I used my new Square nestabilities. The card stock is CTMH. Olive Green, Bubblegum, Chocolate and White Daisy. I used Inkadinkado - Birthday Cupcake. The ribbon is Elements, Uptown Red. I stamped the image with black stazon and used my prisma colored pencils. I sponged some of the edges with Watermelon and added bling with Crystal stickles. She loved it!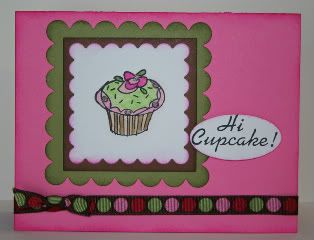 Dont forget to leave a comment on yesterday's post for a chance to win blog candy..