I created this gate fold card using my ScorPal.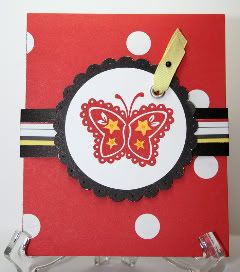 Using CTMH Cranberry Red CS, cut base of card 4.25 x 10 inches.
Score at 2.5 inches and 7.5 inches.
Using polka dot paper from CTMH 7064B Giggles and Grins cut two pieces 2 1/2 x 4 1/4 inches and adhere to each side of card base.
Using Black CS ,cut band for the card 1 x 10 inches.
Score at 3 inches and 7 1/4 inches.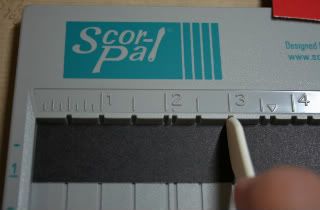 Using Striped paper from Giggles and Grins cut band 1/2 x 10 inches.
Adhere to the Black strip. Make the the band fits around the outside of the card and adhere edges together.
Cut Black Scallop using Purple Marvy punch and A white circle using Pink Marvy punch.
I stamped a butterfly from CTMH set B1307 Whimsical Wings. I used Sunny yellow to color in the stars and some yellow stickles. I used a large silver eyelet and attached some sunny yellow ribbon and a bitty brad Z1051. Peirce each scallop around outside edge. Adhere stamped piece to the black piece. Adhere to the band.
Cut inside white piece 4 x 4 3/4 and adhere to inside. I stamped a sentiment from Lizzie Anne's Sketched Sentiments.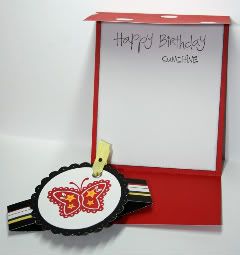 This is a nice quick card to make.
karma. ... double your joy by sharing it....