Scissorbella recently changed jobs.   Her first job as a hair stylist was at an Aveda salon. She worked there for almost 3 years.  She loved her boss, she loved her co-workers. She worked for commission.   Her goal was to get a good client base and move to a salon that she rented her own space so that she could make more money, and she can make her own hours.   She is now doing that.   She asked me to make her a sign to post at her station .  The salon (Rejuv MedSpa) has a shabby chic decor so she wanted something to match.  She'll buy a nice little 5x7 frame to put this in.   Name blocked out to protect the innocent.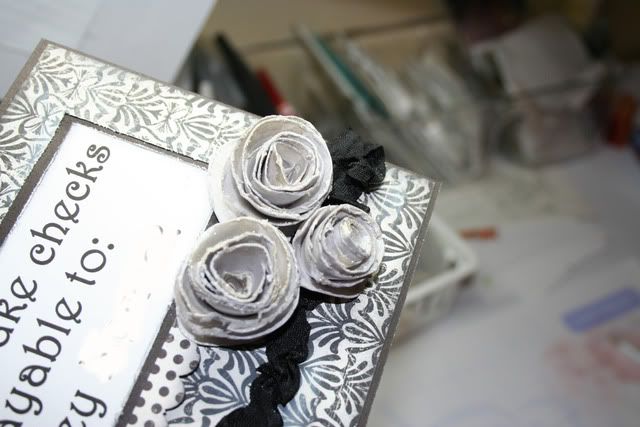 I made my pretty little paper roses and spritzed them with some Shimmerz Spritz,  then painted on some champagne mist ink.   I dry brushed white ink on the background paper to distress a little bit.
Products used:  CTMH – Black. My Minds Eye. SU champagne mist ink. Shimmerz Spritz. Seam binding ribbon. SU punch.  American acrylic paint.