Day 5 and all is well…..  CUTE! CUTE! CUTE!  I love this card.  I'm sure the recipient is part of the reason.
See Sundays post for a link to the details of the anni-verve-sary of
Verve Stamps
.
If you are a regular reader, you know my Grandson loves Dinosaurs and Dragons.    Everywhere he goes… he's on the hunt for them.  Seriously…  They're  flying in the air all around and his handy dandy weapon of choice  (his favorite stick)  is always within easy reach.
I thought this would be the perfect time to make a card for him.  He'll turn 3 on September 15th and his favorite color is orange.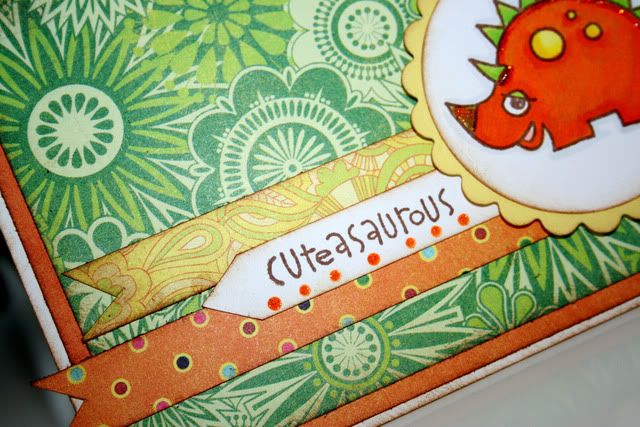 I think pretty much everything on his wish list involved Dragons or Dinosaurs. I'll be shopping soon…  Maybe I'll find something fun while I'm in Lake Tahoe for a week the first part of September.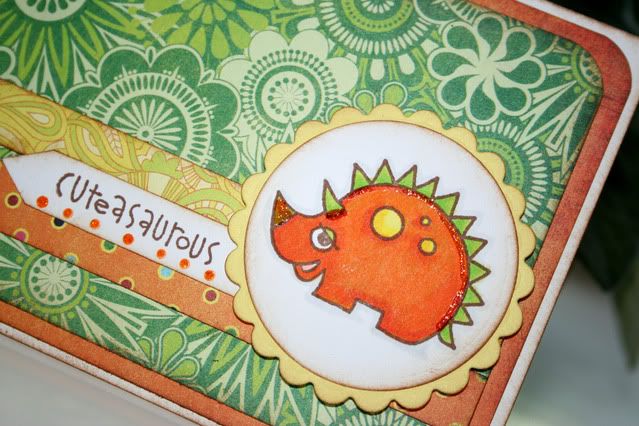 Products used:  CHF – Little Boy.  Basic Grey – Lime Ricky. CTMH – Sunkiss Yellow. Stickles. Copic. Distress ink – Vintage photo. Nestabilities.
EnJOY!