There is a change in the air. The last couple of days have been a little cooler. Yesterday it was overcast and we even received a little bit of rain last night. I was standing outside looking an my large maple trees…
and was thinking to myself…. It won't be long and this will be happening…
I love Fall! I love the crisp air. I love the colors. It's time for college Football.
GO

BSU

!!
I ordered this pretty ribbon from
Prairie Bird Boutique
on ETSY. The colors are perfect for Fall cards.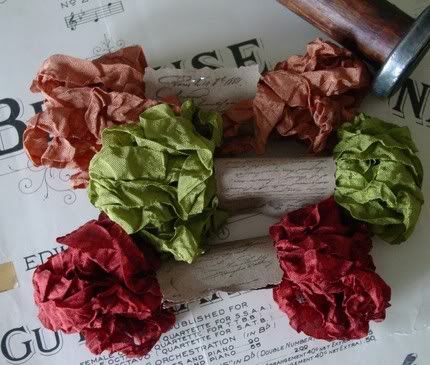 I started cleaning out my painting workspace (third stall of the garage) and made some Winter project plans.
Here are some projects from Winter's past. I used to paint quite a few items and had a space at a local Christmas Bizarre. I just don't have the time anymore, so now I paint a few custom orders and paint a few for gifts.
Somewhere in between projects, I'll squeeze in Christmas Cards. What do you have planned this Fall?