This subject has been brought up a lot of times over the last couple of week.  It's been a big discussion at work, and I've read about it on blogs and tweets.   Grammar. Spelling. Proper English.     I have mixed feelings on the subject.    We all text and have learned to shorten and abbreviate words.   We have personal blogs that I think are.. well…  personal….    I should be able to do anything I want.. It's not being graded and quite frankly.. I don't have the time to be the patrol officer.  Sometimes the improper spelling is done on purpose.  Sometimes slang words are inserted.   
One word in question is,  ALOT.   I know the proper way to spell it is a lot (two words)   but it is so common to spell as one word that the dictionary has added it as an alternate way to spell it..    A friend recently sent me THIS blog post… It is over at Hyper Hole and a Half  and I find it quite funny.   You can't do anything about it so seriously, Lighten up.  Be Silly. Enjoy life. De-Stress.
Now on to the important stuff….
I've been making a lot of cards lately using up scraps.   I have one container that I throw all of my scraps in.  Man they sure do accumulate fast!  I've bought my first few sets of stamps from Just Right Stampers.  I love them.. I can hardly wait to ink more of them.
Do one thing every day that makes you happy.  Isn't that good advice?
Notice that pretty little hand crocheted flower under the antique brad?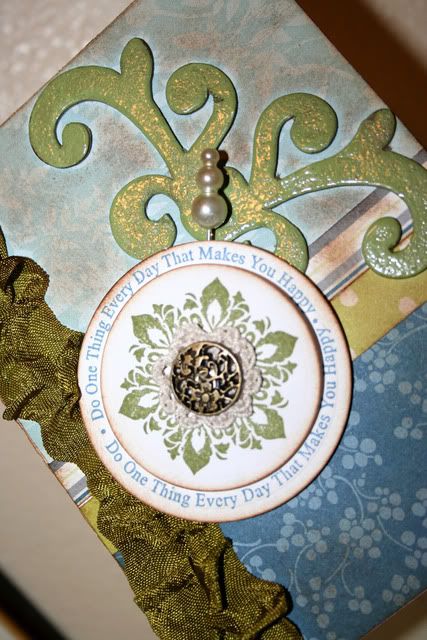 Products used:   Just Right – Kaleidoscope.  CTMH – Indian Corn blue, Olive. SU papers. Nestabilities. SU – Antique brads. Maya Road chipboard. Craft ink. Clear emboss powder. Maya Road Pin. Hand crocheted flower. Seam binding ribbon. Distress ink - Vintage photo. Alot of love.
"Do one thing every day that makes you happy."
PS... I love comments.