I am Thankful for awesome parents that raised me right. They made me work hard! They taught me values and most of all taught me the meaning of Love!
This is my parents with my brother and I.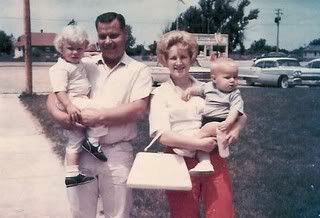 I am Thankful for my siblings. I wish we had more time to "hang out"
I am Thankful for extended family! I love all of my cousins and Uncles and Aunts. Many are no longer living but I have many fond memories of them!!
This is Cousins from my Moms Side (I'm the white haired in front)

This is my dads family. All of his siblings and Mother. My dad is the youngest.
My Dad is no longer alive. I miss him very much! My Mom will be flying into town Thursday Morning! I value the time I have with Her!